Anti-Valentine's Day Exposed: For Her
By Kristen Underwood — / Death Wish Coffee Blog
What Is Anti-Valentine's Day?
sin•gle - /ˈsiNGɡəl/ - adjective
The state of not being another person's b-word anymore.
For those who are single:
One in five women are affected by Desperate Cuffing-Season Syndrome. During the Fall and Winter months, especially this notorious Hallmark notion of "love" we call Valentine's Day, people who would normally rather be single, find themselves desiring to be cuffed or tied down in a relationship. Symptoms include:
Posting excessively on social media resulting in major side effects of self-pity and failing to be sarcastic and humorous. I suggest you see a doctor if the attention-seeking worsens.
Do not watch rom-coms as it will probably result in you crying into a box of chocolate covered strawberries. Contact a therapist or your local pharmacy to learn more about what it means to hold your own and be happy alone.
Until then, will you be my Anti-Valentine?


For those who are in a relationship:

The worst part about Valentine's Day is the volume of sloppy, slushy posts across all social media boards. I hate to be the one to tell you, but once you hit "Share", you've immediately desensitized yourself to what relationships and love actually are. One special moment is now something the whole world can see, taking the true value of that moment away. Don't forget that social media is a great place to put our best faces on. Relationships are not all bae goals.
Let's be honest, you did that full face of makeup just for the picture.
Good thing he swiped right, too.
How many hashtags will it take to be the center of his universe?
I hope you enjoy tonight, since tomorrow you'll be single again.
Now that we've established Valentine's Day sucks, let's talk about how we can gift ourselves instead of smothering ourselves in bitterness.
Just because you're single, doesn't mean you can't get drunk off something you love. 
I think we can all agree, there's no passing up chocolate covered strawberries on this day... If you eat enough, you'll probably forget you're single, anyways.
If you're in a relationship:
Forget the chocolates, flowers and perfume. Your girlfriend doesn't want to get fat, doesn't want flowers that will die in less than a week, and doesn't need to be reminded that she smells bad. It's a trap.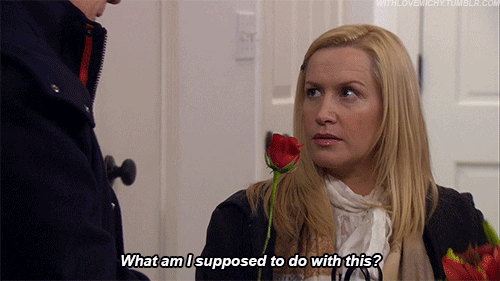 Listen, if you're single, I encourage you to treat yo'self this Valentine's Day. If you're not, you'll most likely buy into it again, because if you don't spend your whole paycheck, you'll most likely get dumped and end up dying alone. I don't make the rules. Happy Anti-Valentine's Day!